Four rescued after fire in Forest of Dean flat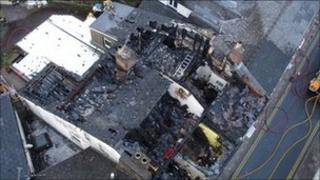 Four people have been rescued following a fire in a flat above a row of shops in Gloucestershire.
Two people, a man and a woman, were rescued from the property in Market Street, Cinderford, just before 0300 BST on Sunday. Both were injured.
Another couple were also evacuated unharmed from an adjacent property.
Structural engineers said part of the building could collapse as there were "unsupported walls" and the roof was unstable.
Cats rescued
"Unfortunately the shops also suffered some damage through water which was used to extinguish the fire, which was completely unavoidable," said Tally Giampa from Gloucestershire Fire and Rescue Service.
"The shops can be accessed. The shopkeepers will be able to access the shops and start fixing things."
In total, 30 firefighters with six appliances fought the blaze.
Station Manager Jon French said the couple were awoken by the noise of the fire.
He said they would have been alerted earlier if a working smoke alarm was fitted.
Four cats were also rescued uninjured during the incident.