Gloucestershire cliff rescue for dog at Symonds Yat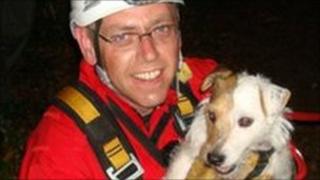 A dog had to be rescued when it became stuck after chasing a rabbit 66ft (20m) up a cliff face in Gloucestershire.
Trixie the Jack Russell became stranded on a ledge after leaving her owners to chase a rabbit near Symonds Yat in the Forest of Dean on Sunday.
A rescue team from Coleford was called and crew manager Lee Harris abseiled the 164ft (50m) cliff.
It took about two-and-half hours to rescue Trixie and reunite the hungry and dehydrated dog with her owners.
Simon McMillan, Gloucestershire Fire and Rescue Service manager, said: "Rescuing an animal that may be injured or just very scared is always a delicate operation.
"The cliff rescue team specialises in rescues like this and I'm please that in this case, Trixie managed to escape uninjured."