Cheltenham MP wants action over noise pollution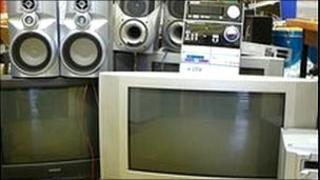 A Gloucestershire MP has said the problem of noise pollution is not being dealt with properly in the county.
Martin Horwood, the Liberal Democrat MP for Cheltenham, wants councils to be more proactive.
Figures obtained by the BBC show that noise complaints have gone up in the town by 6% in the last year.
Cheltenham Borough Council said the figures showed no "significant" increase and prompted "no immediate cause for concern."
Mr Horwood said: "I found there was literally nobody to call about a noisy party or a noisy disturbance during the night.
"I don't think our councils are using the powers they could use and I think they're underestimating the seriousness of the problem."
At present, noise pollution, including loud music, alarms, noise from domestic animals and construction sites, is dealt with by local councils.
Complainants are usually asked by environmental health to keep a noise diary for a number of weeks, with the council then deciding if they will send out an enforcement officer.
The Mayor of Cheltenham, Barbara Driver said: "I think the council should get tougher, and I think they should get tougher on some of the noise that goes on when they come out of nightclubs. That can be horrendous."