Lydney sports pitch surface offered to local bidders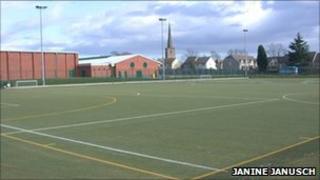 An all-weather sports pitch is being offered to bidders in Gloucestershire who may want a piece of the surface.
The 19,685 sq ft (6,000 sq m) pitch in Lydney is being relaid and local community groups and organisations are being invited to buy the old covering.
Councillor Terry Hale, from the Forest of Dean District Council, said it would be a "shame" to throw the surface away.
He added it could be "perfect" for golf or cricket clubs to create a training area or for a community group garden.
The council said the pitch had "life left in it" so it was seeking local people who might be able to put it to good use.
"To minimise the impact on the environment of throwing this out we're asking anyone interested to bid for it," said Mr Hale.