Stephen Morris reviews Cheltenham band The Flex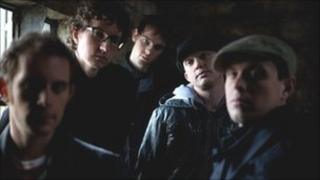 Gloucestershire doesn't quite have its own musical sound.
The fantastic diversity of music from the county (from the acoustic driven beautiful sounds of Stress Echoes to the heart-on-sleeve symphonic torment of Jet-Pack) means there isn't really a 'Severn Beat' to equate with that of the Mersey.
Nevertheless, there are a selection of bands from across the south-west of England whose music is broadly similar.
And with Gloucestershire being in the south-west (when it isn't busy being in the Midlands), some bands and artists from the area could find themselves part of the South West Sound.
"But what is this South West Sound of which you speak?" I hear you cry.
I'm glad you asked me. Very glad indeed.
The South West Sound (which I may have just made up) has a soft, summery feel to it. There are occasional hints of a light reggae-ish offbeat which will make you smile.
Even at its most aggrieved, the songs have a buoyancy to them, making them perfect for sunny festival afternoons. You could call it Easy Listening Indie.
For more details, see the songs of Taunton's MicroLight, Plymouth's Land of the Giants or Clumsy from Bristol. And as for Gloucestershire? Well, you need look no further than The Flex.
Name change
The Flex were, until fairly recently, better known as Dress to Kill.
But while their name may have changed, their sunny sounding music hasn't.
The Flex's music remains bouncy and catchy: perfect for summer days.
And, as with other bands from my 'South West Sound' genre that I have shamelessly shoe horned The Flex into, even this band's angst-ridden lyrics have a certain sparkle and shine to them.
The Flex's latest offerings are critiques of human behaviour.
'Feet on the Ground' berates a dreamer who has "always got your head in the clouds".
By contrast, 'Desire' and 'The Power' are all about wishing life could be different.
When clouds reappear in 'The Power', this time they're getting in the way ("Wish I had the power and I made the storm stop").
Summer sound
As with their days as Dress to Kill, comparisons with Maxïmo Park are inevitable, particularly in 'Had Enough' and 'Desire' - to the point where the chorus of the former could actually be a song from Paul Smith and co.
Which is no bad thing.
Elsewhere, The Flex have enough originality and flair to become far more than anyone's tribute band.
The Flex are an exciting band who have, wittingly or otherwise, tapped into the musical ley lines of the South West (occasionally by way of the North East).
This is music at once searching and questioning, yet unafraid to get up and dance.
The Flex could well be the sound of summer.