Stolen porcelain back on display at Berkeley Castle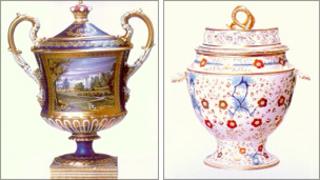 Two pieces of antique porcelain are to be put back on display at Berkeley Castle 12 years after being stolen.
The Chamberlain's Worcester porcelain ice pail and vase were stolen in May 1999 and reported to The Art Loss Register.
A routine catalogue search in September identified the objects which had been put up for auction in East Sussex.
They were withdrawn from sale and the sellers agreed to return them to their rightful owners.
After liaising with the police, the regional auction house and the insurer, the porcelain was recently returned to Berkeley Castle where it is back on public display from Sunday.
The Berkeley family, who have occupied the estate since the 12th Century, said they were "overjoyed" at the recovery.