Phone cable repairs in Gloucester 'could take days'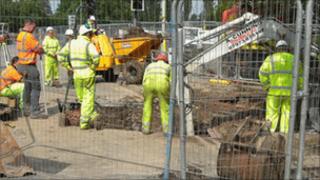 Homes and businesses in a part of Gloucester could be without phones and broadband for several more days after workmen accidentally severed wires.
The Longlevens area has been affected since Thursday when Severn Trent contractors cut cables in Gouda Way.
Two fibre optic cables have been mended but six copper ones are still broken.
Emma Tennant from BT said: "The damage is so far underground that we're having to get under the equipment that caused the damage to even access the cables."
She added: "We are now waiting for additional safety equipment to be installed to enable our engineers to proceed with the work safely."
At least 1,200 faults have been reported to BT since the cables were cut.
A spokesperson for Severn Trent said: "Our priority at the moment is working with BT to sort out the problem.
"We're very sorry for those who have been without phone or broadband over the weekend."