MP wants assurances over Cheltenham rail line carriages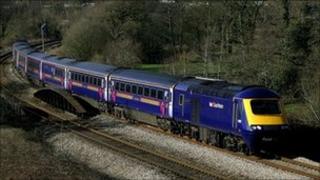 Cheltenham's MP has sought assurances that the size of trains on a Cotswold rail line will not be reduced.
Liberal Democrat Martin Horwood said the line between Cheltenham and Swindon is served by eight-carriage trains but this might be reduced to five.
"Clearly that would be a bit of a problem if it was anywhere near peak capacity," he said.
First Great Western, the franchise holder, said the plan was for five carriages but could run up to 10.
Mr Horwood said his main cause for concern surrounded a plan for new trains when the Great Western mainline to London is electrified.
"The government is investing a lot of money in public transport, including Intercity Express Programme.
"These are going to be new trains but the issue is how many cars they might have.
"There's a suggestion in the industry is that we might be reducing from eight-car sets down to five-car sets.
"I know there are times when you can barely get a seat so that would be a real worry if we're going to all be squashed into an even smaller train."
Increased services
A spokesman for First Great Western said the firm currently provides an eight-carriage high-speed train service every two hours.
"The proposal for the new trains is that they will be five-car lengths on this route, however they will also be able to run coupled together as ten-car units.
"The Department for Transport (DfT), hasn't announced its final specifications, but we have been talking to the DfT, and we now understand that the plan will include an hourly through service to and from London, so an increase on today.
"In the peak, services will be 10 cars, with only off-peak services operating with five-car trains to reflect demand and better balance the need for service frequency and capacity."
The line, which runs from Cheltenham, through Stroud and Kemble, and on to Swindon, is currently single-track.
The go-ahead to double the 12.5 miles of track was given by the government in March and should be complete by 2014.