Lower Slaughter phone box taken over by community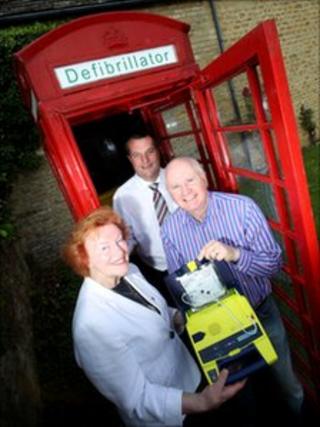 A former Cotswolds telephone box has been fitted with life-saving heart equipment.
The decommissioned kiosk in Lower Slaughter has been fitted with a defibrillator, used to restart the heart of cardiac arrest patients.
BT has paid for the equipment and has worked with the Community Heartbeat Trust (CHT) to provide it.
The firm said the phone box was the 1,500th in the UK to be adopted by the local community.
The Adopt a Kiosk scheme was introduced in 2008 in response to requests from local councils and residents.
It allows a community to retain its red phone box, with the payphone taken out, by buying the kiosk from BT for £1.
'Lease of life'
Sheila Jeffery, Cotswold district councillor, said: "We are very pleased that Lower Slaughter's kiosk is the 1,500th in the country to be adopted and I know the residents are most appreciative of BT's generous offer to fund the defibrillator equipment.
"Lower Slaughter is a very beautiful, but very busy Cotswold village, with a large number of visitors every year, and the kiosk really could help saves lives."
The device is secured in the phone box in a yellow, vandal-proof steel box, which can be opened with a combination code available by calling 999.
It is the first of five defibrillators in the UK that BT has provided funding for.
John Lumb, general manager for BT Payphones, said: "It's so gratifying to see our old rarely-used boxes given a new lease of life.
"Kiosks fitted with defibrillator machines are a genuine asset to their community and could be real life savers in the future."