Cut phone lines in Gloucester caused by sewer 'mole'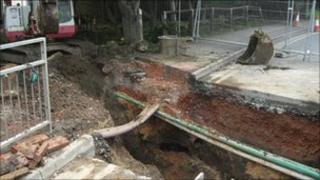 Severed phone lines in Gloucester were caused by an underground "mole" used by Severn Trent to install a new sewer.
More than 1,200 homes and businesses around the Longlevens area have been without phones and broadband since cables were cut through on Thursday.
A Severn Trent spokesperson said it was looking into why the drilling machine went through the cables as "it was exactly where it was meant to be".
BT engineers are working round the clock to restore services.
Severn Trent's Rachel Groves said: "It's a complex area where it went through the cables. There are a lot of utilities who have pipe work or wires along that route.
"We took advice and did very careful planning, however it still went through the cables, so we've got to look at how this came about."
The same tunnel boring machine, which drags sewer pipes behind it, went off course in December when it drilled through "difficult" ground.
The sewer is being installed as part of an £11m project to reduce the risk of flooding in Gloucester.
'Not paying compensation'
BT has identified about 35 priority phone lines, such as those serving doctors surgeries and vulnerable people, and has said these will be reconnected first.
Emma Tennant, from BT, said: "We have found some [cables] that haven't been damaged where we are going to be able to give people a connection through."
Work on reconnecting the damaged wires in Gouda Way was due to begin on Tuesday once equipment had been installed to allow safe working 4m below ground.
Ms Tennant said: "Once we start connecting people we are going to have people working round the clock until the services are restored.
"We sincerely hope to start reconnecting customers between now and the weekend."
She added: "BT Openreach, the engineering part of BT, has declared the incident is 'matters beyond their control' which means they can't say when it will be fixed and therefore are not paying compensation to their customers, which are the other service providers.
"People will need to contact their own service provider to find out what the situation is [about compensation] depending on what their company is going to do."