Motorists' 'Good Drivers' pledge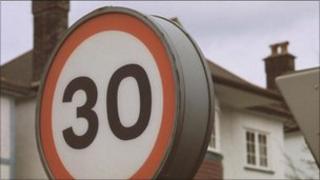 Motorists in Gloucestershire are being encouraged to sign up to a "Good Drivers Pledge" by a parish council and local policeman.
The pledge reads "I will drive within the speed limits for the safety of the residents of Hardwicke" and "I will be a careful and considerate driver".
Scheme organiser Pc Fraser Mackie said: "The idea has been driven by the community giving them what they want."
In first week of the scheme 14 people signed up to the pledge.
Hedgerow dash
"They don't feel safe walking down the road.
"Roads that when they were first built were perfectly adequate for the traffic they were going to carry, but with modern 4x4s they're just too big and they leave too little space by the side of the road," said Pc Mackie.
"There have been occasions where cyclists and pedestrians have had to make a dash into the hedgerow in order to avoid the on-coming traffic."
Pc Mackie has said on average, over a two-hour period, around six people are caught speeding when he monitors problem areas.
"We're asking people to take pride in their driving and stick within the limits, and to drive carefully."
Motorists who sign up get a sticker and their name can be seen on the website.