Walkways to be built over Chedworth Roman Villa mosaics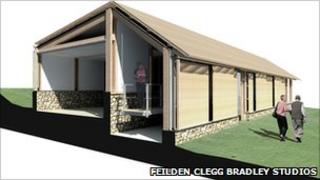 Suspended walkways are to be built above 4th Century mosaics at Chedworth Roman Villa in Gloucestershire.
The National Trust says visitors will then be able to see the mosaics "up-close in a way that was not previously possible".
The trust describes the site, at Yanworth, near Cheltenham, as "one of the most significant domestic Roman sites in the UK".
The £150,000 grant to build the walkways came from the Gloucestershire Environmental Trust and landfill tax contributions from waste management company Cory Environmental.
The mosaics, which are currently covered, are due to go on display next March.
The work forms part of a £3m project to protect mosaics and some other remains of the historic site.
It involves building a new shelter over them to replace Victorian structures, which the National Trust says were failing to protect them from the environment.
More mosaics are yet to be uncovered by archaeologists.
Programme officer Pippa Wise said: "In the summer of 2012 the final section of corridor mosaic will be excavated and reveal one of the longest corridor mosaics in England."