Gloucester's Kyneburgh Tower marks project's completion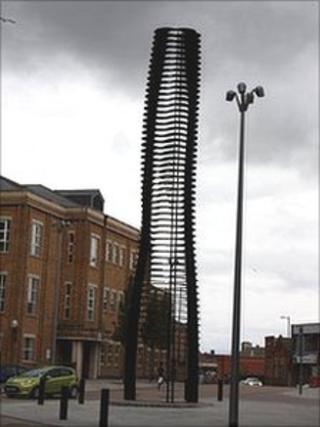 The final stage of a £7m project to link Gloucester city centre with the docks is being marked with the unveiling of a new work of art.
The 16m (53ft) Kyneburgh Tower will be on show in Kimbrose Square at 1200 BST.
Gloucester County Council and Gloucester Heritage Urban Regeneration Company asked British sculptor Tom Price to create the bespoke tower.
He also built a 30m (98ft) wall along the line of the city's Roman wall, which was installed in June.
The 17-tonne tower is the "centrepiece of the newly transformed area of public space" within the once run-down area formerly known as the Kimbrose Triangle.
Mr Price said the tower told the story of a girl's journey from life to death and beyond.
'Metaphysical sundial'
"I intended it to be both a spectacle and a place for quiet contemplation," he explained.
"Both artworks function like a metaphysical sundial. They point to the invisible histories we rarely seek out, but which permeate the landscape around us."
The inspiration for the pieces is Gloucester's "patron saint" Kyneburgh, who, according to medieval legend, was a Saxon princess who ran away from an arranged marriage.
She fled to Gloucester and was adopted by a baker whose wife killed her out of jealousy and threw her body down a well.
'Real gem'
The well became known as St Kyneburgh's Fountain, a place of pilgrimage famous for its supposed healing powers.
"The installation of the Kyneburgh Tower completes the transformation of this once run-down area of the city," said Chris Oldershaw from Gloucester Heritage Urban Regeneration Company.
Conservative councillor Chas Fellows, who is responsible for economy and environment, said: "I am extremely passionate about public art and I think this is a real gem.
"[It has] been made all the more interesting by using Gloucester's rich history as its inspiration."
The artworks will be dedicated by the Dean of Gloucester Cathedral, the Very Reverend Stephen Lake, and the Reverend Canon Nikki Arthy as part of the official opening ceremony.