Gloucester phone lines back after "mole" cut cables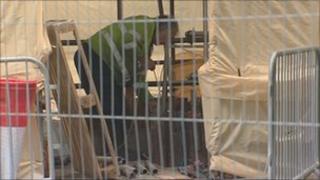 The "vast majority" of phone lines which were cut off in Gloucester during underground work have been reconnected.
Work by Severn Trent using a "mole" accidentally severed cables two weeks ago while drilling underground and cut off more than 1,600 customers.
The drilling device is being used in an £11m project to install a new sewer to reduce the flooding risk in the city.
BT's Chris Orum said most customers should now be back online and the rest would be reconnected on Friday.
Mr Orum added that two fibre optic cables and six copper cables had been cut during the work.
"We haven't finished and there's mopping up to do," he said.
"We're asking people now to check to see if they've got a dial tone and ensure they don't have faults.
"If people do have faults they should contact their service provider."