Prince of Wales welcomes wounded soldiers to Highgrove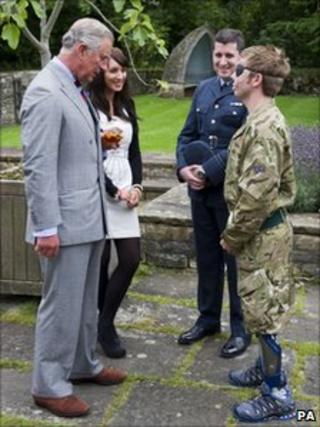 A group of soldiers wounded in action have been welcomed by the Prince of Wales into his Gloucestershire home.
Prince Charles and Camilla, the Duchess of Cornwall, hosted the reception for military personnel who have been wounded in the past couple of years.
Among those invited was Military Cross holder Cpl Ricky Furgusson, 25, from Telford, of 4 Rifles, who suffered severe injuries in Sangin.
Many of the guests toured the Highgrove Gardens before the reception.
Cpl Furgusson was leading his team to occupy and secure a compound when an explosion happened in January last year.
'Face reconstructed'
He stepped on an IED as he was leaving the building.
"The doorway was low so I had to pull my radio antenna down - you're physically looking down as you go through the doorway - so that's why I took the facial blasts and lost my eye and have skin grafts.
"I obviously don't remember getting hit... but I lost both legs above the knee, five fingers, my left eye has gone, all my lips are now reconstructed with skin grafts and the side of my face is reconstructed."
After being treated on the ground by members of his team, Cpl Furgusson was taken by helicopter to Camp Bastion before being transferred to Selly Oak Hospital in Birmingham.
At the reception he met Flt Lt Haslam, 31, from Portsmouth, who was one of the medics on the rescue helicopter.
He said: "Last time I saw Ricky, he looked very different to the way he looks now.
"He was on a stretcher and he'd been severely injured.
"It's fantastic to see him up and about.
"We don't really save their lives, their mates on the ground save them, they do the life-saving bit, we just do the bit where hopefully they can get back to the UK and have all their surgeries and rehab and then be here today."
The royal couple also invited staff who assisted in transporting the soldiers back to the UK, staff from Headley Court, and staff from other support organisations who assist injured service personnel.
Soldiers from the Parachute Regiment, The Rifles, The Royal Dragoon Guards, The Mercians and The Gurkhas were also among the guests at Friday lunchtime's reception.