Gloucestershire steam railway raided for £60k of metal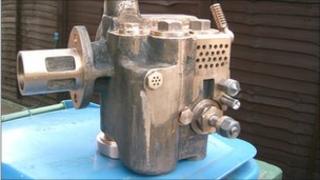 Thieves stole £60,000 of metal after raiding the headquarters of the Gloucestershire Warwickshire Railway.
Brass, copper and bronze components were stripped from locomotives and rolling stock at the base in Toddington, Gloucestershire.
A police spokesman said the offenders drove through fields behind the compound before clearing a fence and breaking into containers and workshops.
The raid happened between 21:00 BST on 18 July and 07:00 BST the next day.
Neil Carr, the railway's operations director, described the raid as "heartbreaking".
"The tragedy is that steam locomotive components can't easily be replaced," he said.
"For example, one stolen component, known as a brake ejector, is a complex casting with many intricate moving parts inside involving well over a thousand hours of skilled machining by volunteers.
"This item alone has a value of around £15,000, yet as scrap metal is probably worth little more than £60.
"This component is from a locomotive that is close to the end of a 25-year restoration and its loss will delay its return to steam by at least a year."
Other stolen items included copper pipework, bearings, valves and other historic fittings that will have to be manufactured again from scratch.
The heritage railway has faced a £1.45m repair bill following landslips in April 2010 and January this year and is running an emergency appeal for financial help.