Fire training college private sector plan moves closer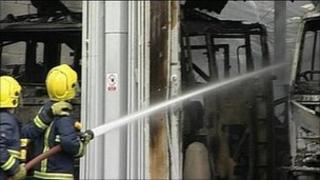 A plan for the national Fire Service College in Moreton-in-Marsh to team up with private training providers has moved a step closer.
The Local Government Association (LGA) said in February that urgent measures were needed to save the college, which was "no longer financially viable".
The plan has now been approved by the Fire Services Management Committee.
The 500-acre site provides about half of specialist and operational training for the UK's fire and rescue services.
It also provides training for brigades from abroad.
'Spiral of decline'
Since 1992, the government-owned centre has been run as a trading fund, meaning it is run on behalf of ministers by an agency and has greater freedom than Whitehall departments.
The report by the LGA concluded that private partnership was the "only option to secure the future of the institution".
It found that under government control the college has been on a "spiral of decline", being underused and beset by high overheads and debt.
It said years of under investment meant it was now in dire need of renovation if it was to avoid closure.
The report recommended that the college should commission a private company to provide training, perhaps ultimately providing teaching across all of the emergency services.
A final decision is expected to be made by the government in the coming months.