Missing rare breed sheep reappear in Gloucestershire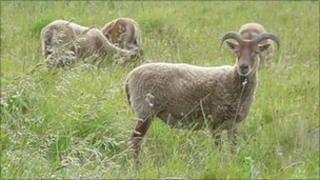 A flock of rare sheep that vanished from a field in Gloucestershire have reappeared 24 hours later.
On Sunday, Terence Pritchard reported 12 of his 13 Castlemilk Moorit sheep missing after a neighbour reported hearing a "commotion" in their field.
But on Monday, the neighbour visited the Redmarley field to find all the sheep were back.
Mr Pritchard said: "We cannot explain it. How did they find their way back?"
Assisted by the local farming community, Mr Pritchard had searched several square miles on Sunday and found nothing.
He feared the sheep had been stolen with just one of the flock managing to escape the thieves' clutches.
The Rare Breeds Survival Trust consider the Castlemilk Moorit breed to be "vulnerable" and have between 500-900 registered females breeding in the UK.