Gloucester riverside work to make area more accessible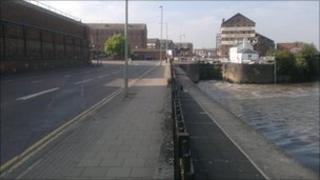 Part of the riverside in Gloucester is to be made more accessible to the public during planned roadworks.
The Quay is having new cables laid in September and at the same time the road will be reduced from four lanes to two.
Gloucestershire County Council plans to open up the river frontage to make a "pleasant walkway" with trees, improved seating and links to Alney Island.
The authority said it hoped to save money by doing the work while Central Networks laid the new cables.
The Quay was previously used as an inner ringroad but since the South West Bypass opened in 2007 the volume of traffic has dropped.
Councillor Will Windsor Clive said: "This is an exciting scheme for Gloucester and one which will greatly change and open up the riverside for everyone to enjoy.
"It is just the first in a series of changes planned to improve this area, which will help residents, visitors and shoppers make the most of our historic city."