Cheltenham Festivals' financial loss in challenging year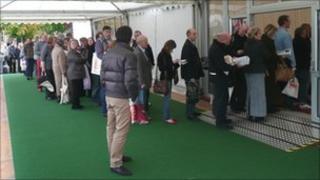 Cheltenham Festivals operated with a loss of £124,000 in its first year of receiving less money from the council.
Bosses expected a challenging period in 2010 after Cheltenham Borough Council withdrew an infrastructure grant which had totalled £100,000 the year before.
The deficit, which was funded from reserves, was eased by a 16% increase in ticket sales for the Literature, Jazz, Science and Music festivals.
Chief executive Donna Renney said they had coped well with a challenging year.
"Our ticket sales are growing and what we now have to do is get our fundraising up to cover that loss," said Ms Renney.
'Huge demand'
"It is a very clear message coming from the government that arts organisations have to increase their fundraising and philanthropy."
More than 173,000 tickets were sold in 2010 which brought in £1.49m - £210,000 more than the previous year.
But expenditure also increased to a total of £3.9m - £124,000 more than the total income - with programme costs, fees and salaries all rising.
Ms Renney said she believed the festivals would grow further.
"Last year we had 100 sold out events at the Literature Festival, and at the Jazz Festival all are main events sold out within a few weeks," she said.
"There is clearly a huge demand for the kind of culture we are putting on."
The board of directors is gathering on Friday for the annual general meeting.