'Distinctive' dogs dumped in a Gloucestershire field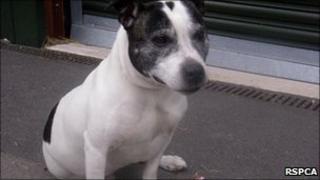 Three "distinctive" Staffordshire bull terrier-type dogs have been dumped in a field in Gloucestershire.
The RSPCA said a member of the public saw the animals, which are all males, being released from a dark 4x4 vehicle in Meysey Hampton near Cirencester.
One of the dogs then strayed on to the road and was hit by a car but escaped unscathed.
The RSPCA said one of the dogs, a young crossbreed, was "underweight and has been undernourished for some time."
A mature three-legged white and black Staffordshire bull terrier, and a white and tan Staffordshire bull terrier, were also left.
Public help
RSPCA inspector Josie Oak said: "I have to thank the member of the public who rescued these dogs when they needed help.
"It is truly shocking that someone could consider it acceptable behaviour to discard the dogs loose in a field as by doing so they were putting their lives in real danger.
"The dogs are quite distinctive so I am hoping that someone will recognise them and come forward with any information."
Inspector Oak said it was possible that the dogs had been stolen and then dumped.
The RSPCA has previously said it rehomed more Staffordshire bull terriers in 2009 than any other type of dog.
The high number needing new homes was in part down to their popularity with irresponsible owners "more interested in their own image", it said.