Religion 'no longer fits in with modern day life'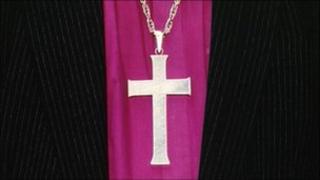 A Gloucester vicar says fewer people are going to church because religion no longer fits in with modern day life.
A study by the Church of England found the number of adults attending church in the UK has fallen by 50% over the past 40 years.
The Reverend Canon Dr Jeni Parsons, rector of St. Katharine's, Matson, in Gloucester, said she thought congregations were falling because people are "living under huge pressure".
"Pressure to get money to pay the mortgage or rent, pressure to get their children to football, or simply to work on Sundays," she said.
"People's lives are so different that we have to make our church available when they're ready, not when we're ready."
'Church matters to people'
Attendance numbers for Matson's regular Sunday morning service are low, but "very big" for baptisms, weddings and funerals.
"Church matters to people in Matson, but they don't come on Sunday mornings," said Dr Parsons.
"When people have a need they'll come to church, until they know that they have a need they won't come to church, there is no point for them.
"People use church like the parlour, it's for best," she added.
"What you do there are the big celebrations and the big sadnesses in your life, but you don't live there - it's not your living room."
You can listen to an interview with Dr Parsons in a new series - 21st Century Faith - on BBC Radio Gloucestershire, starting on Sunday 7 August 2011.
Tune in to Richard Atkins' Sunday Breakfast programme from 06:00 BST.