Gloucestershire bus service spending cut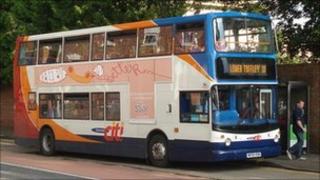 The amount Gloucestershire County Council spends on bus services is to be reduced from £5m to £3m each year.
As part of a review into subsidised services 132 routes were looked at and 95 contracts with bus companies re-negotiated.
Two routes are to be axed - the 612 between Bourton and Evesham, and the 666 from Newent to Ross-on-Wye.
The plan was agreed at a county council cabinet meeting at Shire Hall on Friday.
Gloucestershire County Council says it needs to save £114m from its budget over the next four years.
One of the changes will be to the P and Q routes which will run from Charlton Kings to Cheltenham town centre every 90 minutes on the existing route, between 09:00 and 15:00 Monday to Saturday.
Among other changes will be the 288 Wotton-under-Edge circular service, which will now run on a Tuesday and Friday instead of a Thursday.
Further savings will be made through changes to back office operations, and certain services will be run by community groups.
The council said a further 20 bus services are still under review.
Details of all the new services, which are due to begin in November, are available on the county council's website.