Stephen Morris reviews Cheltenham's The Cadbury Sisters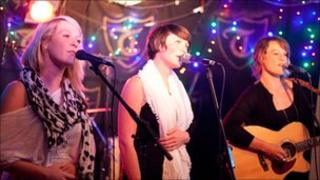 Exactly what Tom Mitchell thinks about being labelled either a member of the Cadbury family or, more importantly, a sister, is not recorded.
Not on The Cadbury Sisters' website or Facebook page, anyway.
Then again "Three Cadbury Sisters and a Bloke called Mitchell" doesn't really have the same ring to it. So maybe he was right to keep himself out of the spotlight.
The Cadbury Sisters are (with the above notable exception) three sisters from Cheltenham. They sing some of the most captivating songs you'll hope to hear.
But while the blurb on their website suggests theirs is the music you should listen to after a long day, listeners of a nervous disposition might be wise to reconsider such a move.
The songs of The Cadbury Sisters are the musical equivalent of wolves in sheep's clothing. True enough, they have beautiful, lilting melodies.
The songs are full of everything that is great about the current contemporary folk movement.
'Coloured Autumn' alone has shades of The Pierces, Emily Barker and the Red Clay Halo and The Webb Sisters. Meanwhile 'Changes' and 'The Sea Has No Back Door' recalls the beautiful songsmithery of Kathryn Williams.
And fans of other local acts will find likenesses with Aspen Sails ('My Bonnie') and Silver Campervan ('Tried and Tested').
On The Cadbury Sister's Facebook page and elsewhere, you'll find some truly beautiful, elegant, yet simple songs.
They sound perfect for long summer evenings. This is camp fire stuff. And yes, it kind of hints at that "end of a long day" vibe the band hint at in their press releases.
And yet…and yet, when you listen to the lyrics, an entirely different beast emerges. The Cadbury Sisters may sound all sweetness and light, but just below the surface these sisters seem to be serial heartbreakers.
'Changes' summarises it best with the lines - "we used to move together/now we're standing apart". The sentiment re-emerges in 'Goodbye' with the line "lately you and I haven't felt the same".
Elsewhere, the lyrics are more savage: "like a shark swimming towards you/I have caught you in my jaws" runs the opening couplet from 'The Sea has no Back Door'.
In fact, it's only in songs like 'Cinnamon' where the gentle, beautiful sounding song has a real message of love and hope for a relationship.
At the heart of these songs to the dumped there is, ultimately, a deep sense of the fear of commitment. It's there most clearly in songs like 'Goodbye' where our narrator feels she's better off alone.
Her "pace is steady without two left feet/oh my left right keeps rhythm/and my foot falls sure and strong".
It's there too in 'Coloured Autumn' with the lines "if I could go back in time and I could mend it…I would run in the other direction."
But most importantly it's there in a single line from 'Tried and Tested': "I cannot let you get in too deep". These are sad, sad songs filled with poignancy.
Gentle and heartbreaking, the themes are a little too melancholic for that perfect summer evening, but they remain things of exquisite beauty and tenderness.