Riots: Additional police requested for Gloucester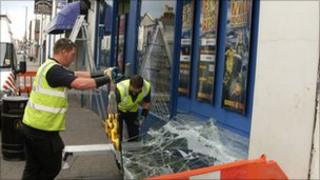 Additional police have been requested to patrol Gloucester city centre.
Gloucestershire Police are one of six forces to request assistance following disturbances on Tuesday night.
The number of police and where they will come from has not been made public. It is not known if the force is recalling the officers it sent to London on Tuesday.
Police officers in Gloucester came under attack from youths throwing rocks and bottles on Tuesday night.
Fourteen people including a girl, 16, were arrested following the disturbance which started at about 23:00 BST.
Assistant Chief Constable Ivor Twydell said: "Clearly the community is as appalled as we are about the behaviour of these mindless thugs.
"Our officers are working through a large amount of intelligence and information from the community and as a result a number of arrests will happen throughout the day and coming days."
College fire
Police have called for any visual evidence of the disturbances, such as photographs to be sent to the force.
Fire crews were also involved in the incidents overnight and were called to tackle a blaze in Brunswick Road.
The fire was in a building previously used by Gloucestershire College of Art and Technology which has been empty since the college moved out in 2007.
Police said they dealt with up to 60 people on the streets in the city centre - many with their faces covered.
Shop windows were attacked and bins set on fire in the Barton Street area.
A police spokeswoman said support had been called upon from colleagues in the Avon and Somerset force.
Earlier in the day, 22 Gloucestershire Police officers were dispatched to London to help the Metropolitan Police deal with anticipated violence.
The force spokeswoman said contingency plans had been in place in the county so their absence did not have a significant impact.