Newent first Forest of Dean town to get new CCTV system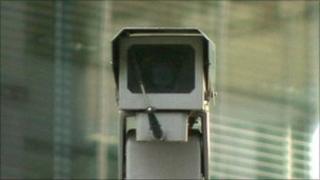 A Gloucestershire town has become the first in the Forest of Dean to have its own wireless CCTV system.
Politicians in Newent are backing the installation of the £9,000 state-of-the art system to replace its current network.
The move follows the withdrawal of police and local authority funding for CCTV in the Forest affecting Coleford, Lydney, Cinderford and Newent.
Mayor of Newent Len Lawton said the new system would save the town money.
"The cameras that are going in are the very latest technology," he said.
"Because it is a more modern system, it's a much easier system to maintain and that reflects in the cost of maintenance.
"Our maintenance charges will be a fraction of what is currently being paid and that I think is a very sustainable way of maintaining this system."
Mr Lawton hopes the new system will be running by the end of September, offering a "seamless change over when the old system shuts down".
"My town in particular supports the idea of maintaining CCTV and, as town councillor, it's my job to ensure that I could maintain that CCTV system," he added.
"What we have in Newent is an understanding by the public that CCTV gives them, if you like, a feelgood factor."