Stratford Park in Stroud wins eighth top title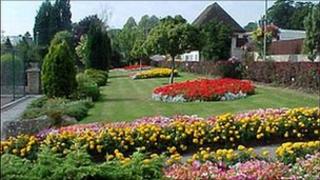 A Cotswold park has been given an award which ranks it among the best in the country.
Stratford Park in Stroud has received a Green Flag Award, which means it is well-maintained and managed, with excellent facilities.
It is the eighth year running the park has scooped the prize.
Stroud District Council said it hoped the win would attract more people to the town.
Only green spaces that are free to enter and open to the public are eligible to win one of the awards.
"It means that we are providing an excellent standard of facilities and we are maintaining those for the people of Stroud," said Stroud public spaces officer Rozelle Jocwicsz.
"It means Stratford Park is a very safe and enjoyable place to visit."
Situated just outside Stroud town centre, the 56 acre Stratford Park also has sports facilities, including a bowling green, football and cricket pitches, play areas and a model railway.
The competition is run in conjunction with environmental charities Keep Britain Tidy, BTCV and GreenSpace.
Some 1,288 parks and green spaces have been awarded the Green Flag Award or Green Flag Community Award this year.