Simon Pegg announced as Cheltenham Film Festival patron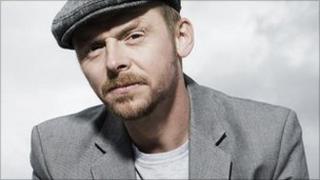 Simon Pegg has been announced as patron of the Cheltenham Film Festival.
The actor, comedian, writer and director, who was born in nearby Gloucester, said it was "really important" for him to support the event.
"I'd love to see the film festival take its place alongside its more established counterparts," he said.
The festival will take place at the Parabola Arts Centre over the first weekend in November.
"It's really important for me to support the festival. It's what I love and it's where I'm from.
'Extremely proud'
"Cinema is as important in smaller towns and cities as it is in the bigger ones.
"I grew up going to the cinema in Cheltenham and Gloucester, so it feels fitting to be associated with the festival.
"I'm extremely proud not only to be a patron but also to see such an event is taking place in my home county," he added.
It is unlikely he will be able to attend the festival in person because of diary commitments.
Festival director Martin Pilkington said: "We are so excited to have Simon Pegg's support as patron of the Cheltenham Film Festival. It's a huge honour."