Gloucestershire eagle owl has sock removed from stomach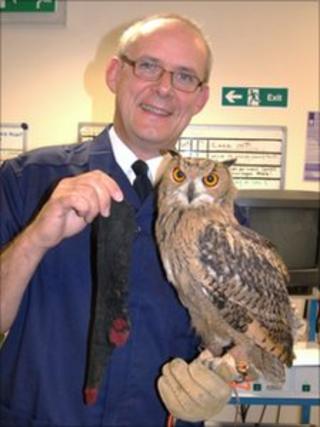 An eagle owl needed surgery to remove a sock from its stomach after swallowing the item at home in Gloucestershire.
Falconer John Dowling noticed Lydon, his 13-week-old Indian eagle owl, was off form during a birds of prey display at a summer show in Stonehouse.
The hand-reared bird was taken to Swindon to see vet Neil Forbes, a specialist in avian medicine, who examined him and decided to operate.
A sock which Lydon had used as a toy since birth was successfully removed.
Mr Dowling, from Stonehouse, grew concerned when his owl looked like it was trying to vomit but was unable to do so.
'Feared the worst'
During the examination at Vets Now Referrals, a hard swelling on the bird's abdomen was felt which was feared to be a growth or tumour - not a piece of clothing.
"Never in my 28 years of avian medicine experience have I treated an owl that swallowed a sock, it's just unheard of," said Mr Forbes.
The owl had used the sock as a toy as Mr Dowling had never thought it could, or would, be eaten.
"I was obviously surprised when Neil found the sock in Lydon's stomach, but more relieved than anything," he said.
"I feared the worst, but was delighted to find out it wasn't something more sinister."