Drainage study for flood-hit Tirley to go ahead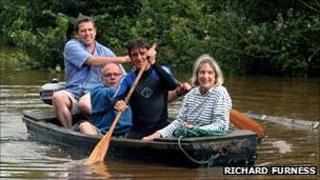 A study into water drainage in the village of Tirley in Gloucestershire has been given the go ahead.
The £15,000 project will research drainage issues in the surrounding region, which often floods.
In 2007 the area was severely affected when 40 properties flooded despite the nearby River Severn being low and the flood plain dry.
Residents said they were concerned that problems were caused by surface water and river flooding.
A total of £10,000 has been provided by National Grid which has started building a gas pressure reduction installation in the village.
The remaining £5,000 has been paid for by Tewkesbury Borough Council.
Councillor Phil Awford said: "This is great news for Tirley, and local residents will be delighted that work will take place to identify exactly why our area is affected by flooding and what can be done to help prevent it from happening in the future."
During the flooding in 2007 dozens of homes in the Tirley area were affected and people had to be rescued from their homes.
BBC presenter Richard Hammond helped to rescue a friend of his by boat from the neighbouring hamlet of Haw Bridge.