Gloucestershire Facebook 'riot' teen avoids court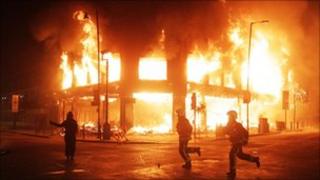 A teenager who posted a message on his Facebook wall encouraging people to vandalise a shop during riots last week has avoided court.
Joshua Moulinie, from Bream in the Forest of Dean, urged people to damage the Spar store in the village.
Police have told the 19-year-old to write a letter of apology to the shop owner as punishment.
In contrast, two men were jailed for four years in Chester on Tuesday for using Facebook to incite disorder.
Jordan Blackshaw, 21, from Marston, and Perry Sutcliffe-Keenan, 22, from Warrington, were jailed for four years at Chester Crown Court.
Blackshaw had created a Facebook event, entitled "Smash Down Northwich Town" while Sutcliffe-Keenan set up a Facebook page called "Let's Have a Riot in Latchford".
They both admitted encouraging crime although there were no outbreaks of disorder in the areas.
Blackshaw is to appeal against his sentence. Sutcliffe-Keenan's solicitor has said he too may appeal against his sentence.
'Not sorry'
Mr Moulinie has posted comments on Facebook saying he was not sorry for the remarks he made.
"It was a very, very blatant joke, I'm not sorry at all for it," he wrote.
"I'm sorry for the reaction it caused, but not for the action. Also can I make it very clear I never intended to riot?"
"I'm not a trouble maker, nor am I violent. Unfortunately, I've got a pretty warped sense of humour," he added.
'Very foolish'
Sgt Richard Pitman, of Gloucestershire Police, said the force had received a report of the message inciting people to riot on 10 August.
"Once the initial message was posted on Facebook, there were responses posted from people saying they would go along with the suggestion to damage the shop," he said.
"Naturally when this was brought to the shop owner's attention by another member of the public he was concerned and contacted us.
"We identified the person responsible for starting the comments and went to his address and arrested him for inciting violence.
"After taking him to Coleford police station we decided to deal with him by way of a Community Orientated Policing outcome, which was for him to write a letter of apology to the shop owner and remove the posting."
Violence started on 7 August in Tottenham, north London after the fatal shooting of Mark Duggan, 29, by police, and spread to other areas in the following days.
Disorder also broke out in places including Liverpool, Birmingham, Bristol, Gloucester and Nottingham in what police have called "copycat criminal activity".