Cheltenham Art Gallery and Museum's regeneration begins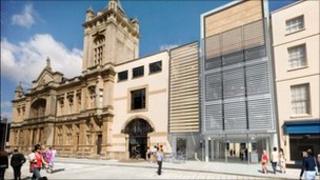 Workers have moved in to begin a £6.3m project to expand and regenerate Cheltenham's Art Gallery and Museum.
Development plans include additional galleries, a performance space, larger cafe and shop and a new home for the Cheltenham Tourist Information Centre.
The site will now be prepared by the appointed contractor which will begin the building work later this month.
So far £5.4m has been raised towards the final target and a fund-raising campaign is soon to be launched.
The scheme will also provide a more prominent entrance to the Art Gallery and Museum and create a new footpath to Cheltenham's oldest building, medieval St. Mary's Church.
'Landmark'
Leader of Cheltenham Borough Council, Councillor Steve Jordan, said this was a "giant step" forward for the redevelopment.
"We have been doing a lot of work behind the scenes to get to this point and I am looking forward to what lies ahead," he added.
The Art Gallery and Museum closed to the public at the end of March and will be re-opening in early 2013.
John Rawlinson, from contractor ISG, said the "landmark building" would enhance public accessibility to the art and museum collections and enable Cheltenham to become a key venue for national and international touring exhibitions.