Gloucestershire's countryside 'under threat'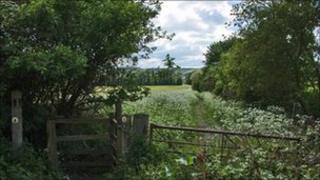 Gloucestershire's countryside has changed dramatically over the past 35 years and is under threat, according to the county's wildlife trust.
The findings have been revealed in a report published by the charity as part of its 50th anniversary celebrations.
It shows traditional orchards, flower-rich grassland and ancient woodland have been in decline since 1973.
The report says the the heart of the Cotswolds "is in danger of becoming a wildlife desert".
The last major land-use survey in the county was carried out in 1973. The latest survey was carried out in 2009.
'Looks can be deceptive'
Scientists compared data from a sample area of 25 sq km (9.7 sq miles) in the Arlingham and Westbury area.
It showed traditional orchards had been reduced by 67%, flower-rich grassland reduced by 83% and ancient woodland reduced by 78% while arable land had increased by 832%.
Commenting on the report, Dr Colin Studholme from Gloucestershire Wildlife Trust said: "It is vital that we explain what has been happening to Gloucestershire's wildlife."
"People look around and see a county that's still very rural - but looks can be deceptive."
"Just because a field is green does not mean it is rich in wildlife. This is a serious issue which has been under-looked because we simply haven't been able to quantify it until now," he added.
The State of the Natural Environment Report claims native bird species such as the lesser spotted woodpecker, turtle dove and song thrush, as well as many butterfly species, have suffered.
"So much of our wildlife are invertebrates, which we rely on to pollinate our crops. But their decline continues as their habitats disappear. We have to ask ourselves whether we are prepared to carry on like this until it's too late," said Dr Studholme.