Cheltenham car park site plans go on display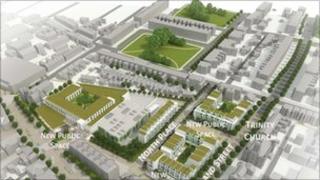 Plans have gone on show for new homes and a hotel on a car park in Cheltenham.
The proposal for the North Place and Portland Street car parks also includes plans for a food store, public square, bus terminal and car parking.
The scheme has been drawn up by developer Augur Buchler.
Cheltenham Borough Council has asked residents for their views on the plans, which are on display at community centres and online.
The designs will be on show at the municipal offices, the resource centres in Hester's Way, Springbank and Grove Street, community centres in Oakley and Hill View and at Charlton Kings library from 23 August.