Police arrest suspected Gloucester gang leader in Stroud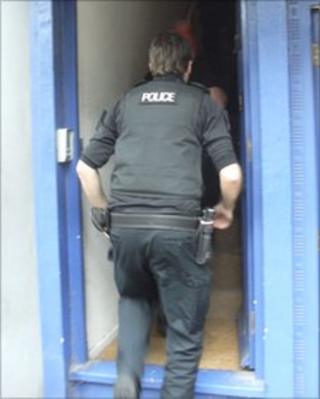 A suspected gang leader in Gloucester is being questioned by police after being arrested at an address in Stroud.
The 19-year-old was arrested on Tuesday on suspicion of possessing a firearm with intent to endanger life and possessing a class A drug.
Since July, Gloucestershire Police have received new information about groups of young people robbing, assaulting and intimidating people in the city.
A spokesman said they were "determined" to put an end to gang-related violence.
Working as part of Operation Avenger, officers arrested the man in connection with the contents of a seized home video.
While they were at the address they also found what is believed to be crack cocaine.
Chief Insp Richard Burge said the operation had led to 17 arrests for a variety of offences.
"We are not talking about an issue on the scale of big cities and these 'gangs' are not as tightly knit or deeply rooted, but the situation is a major concern for us.
"I am 100% confident we will apprehend those responsible and make people feel safe in the city again."
The operation began after a shooting incident in Beaufort Road, Gloucester, and a stabbing in Coney Hill in July.