Riots: Duke and Duchess of Gloucester thank firefighters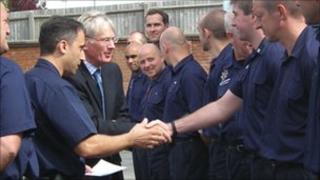 The Duke and Duchess of Gloucester have met firefighters who dealt with blazes during the disturbances in Gloucester.
The couple visited Gloucester Fire Station on Wednesday to thank the teams who worked overnight on 9 August.
More than 100 firefighters tackled the fires, including one in Brunswick Road in a building that Gloucestershire College of Art and Technology used.
It took a team of 40 firefighters two hours to bring under control.
Chief fire officer Jon Hall said: "Firefighters involved in the disturbances worked superbly in stressful conditions during the night and were well supported by police colleagues.
"They deserve praise for the work they did to keep the fire under control at Brunswick, and more importantly, help keep residents in the city safe."
Crews from Gloucester, Cheltenham, Stroud, Tewkesbury, Winchcombe and Newent were part of the royal visit.
The Duke and Duchess also met control room staff and the community safety team.