Open verdict on death of John Flock in Gloucestershire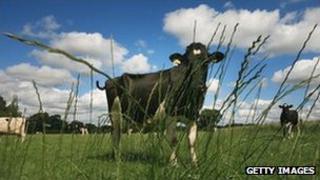 Mystery surrounds the death of a man who was found unconscious in a field in Gloucestershire, an inquest has heard.
John Flock, 64, from Staffordshire, was on holiday with his family who raised the alarm when he failed to return home after a walk with his dogs.
An open verdict was recorded as there was insufficient evidence to prove he had been trampled by cattle, as had previously been thought.
A post-mortem examination found he died from a head injury.
The inquest in Cheltenham was told that Mr Flock, from Barlaston, was on a two-week holiday with his family in Awre when he disappeared.
He was found by farmer Ron Robinson, who farms the 160-acre Branches Farm, in one of his fields on 17 July, 2010.
An air ambulance took him to Bristol and he was later transferred to the City General Hospital in Stoke-on-Trent where he died on 29 August having never regained consciousness.
Derek Dooley, deputy coroner for Gloucestershire, said: "As far as I can see, the suggestion he may have been trampled by cows came about simply because he was in field of cows.
"If he had been trampled either accidentally or aggressively, I would expect to see more violent injuries to his skeleton.
"He was found near a gate and these injuries could easily have occurred from falling from the gate and hitting his head on the hard, dry ground.
"This is a presumption but it shows there is an alternative reason for these injuries."
Solicitor Stephen Nye, who represents the family, said legal action against Mr Robinson had not been ruled out.