Cheltenham rail line increased seating assurance given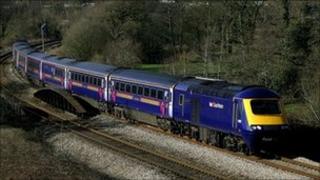 Seating capacity on peak-time trains between Cheltenham and Swindon will increase, the government has said.
From 2016, the new Intercity Express Programme trains will operate as coupled five-car sets at peak times.
Cheltenham MP Martin Horwood sought assurances following fears that the size of trains would be reduced from eight-carriage trains to five.
Norman Baker, the Under-Secretary of State for Transport, wrote to the MP confirming the increased seating.
In the letter, Mr Baker wrote: "I can assure you that our current plans are to operate Cheltenham-Paddington services as coupled five-car sets at peak times, thus offering an increase in peak seating capacity."
Mr Horwood said it was "very good news" for Cheltenham commuters.
"There should be plenty of space for people to use the train more and more and enjoy the new more reliable service that we should get after the redoubling of the Cheltenham-Swindon line," he added.
In March the government gave the green light to double 12.5 miles of track between Kemble and Swindon in a project which should be complete by 2014.