Plans will be 'the end of the NHS' say campaigners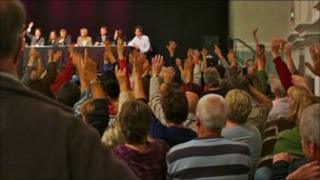 Campaigners fighting plans to change the way health services are run in Gloucestershire say the proposals will be "the end of the NHS as we know it".
The calls came after more than 300 people attended a public meeting in Stroud on Wednesday.
From October a new social enterprise is due to take over management of county hospitals and various health services.
Chief executive designate of the body, Penny Harris, said they were "committed to the NHS values".
The head of health for Unison in the South West, Tanya Palmer, said there was concern among members about the proposals.
"It's very worrying for us to see the development. We think it's the end of the NHS as we know it," she said.
"What's worrying staff is that they will become disenfranchised from the NHS and it will become more about profit and bureaucracy and red tape, rather than patient care."
'Strong local opinion'
The new body will be known as the Gloucestershire Care Services Community Interest Company.
Town councillor Steve Hurrell said there was "strong local opinion about such hugely important changes to the National Health Service".
Ms Harris said they had a contract "which states that clearly" they would remain "committed to the NHS values".
She added: "The staff, the buildings and the clinics will stay the same."
People campaigning against the plans have said they had been rushed through and were a step towards privatisation.
At Wednesday's public meeting, which took place at the town's Subscription Rooms, the majority of people said they objected to the plans.
Supporters say it will provide a better service and give managers more freedom.