Ex-Gloucestershire police chief on 'difficult' Fred West drama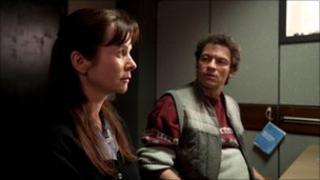 A former police chief has said he hopes a drama about Gloucestershire serial killer Fred West is not sensationalised.
West's relationship with a housewife who sat with him during police interviews is explored in Appropriate Adult which begins on ITV1 on Sunday.
Dr Tim Brain, former chief constable of Gloucestershire Police, said the case would be "very difficult" to dramatise.
He believes it is among the biggest murder inquiries the world has seen.
Dr Brain said: "The West case still defies the imagination in its horror, its scale and its depth of depravity.
"You cannot convey the complexities and sensitivities of some matters in a broadcast in the way that you can in a book.
"If the drama is done sensitively and accurately then it can add much to the understanding of that crime and its investigation."
'Horrible' investigation
ITV Studios said it had been in consultation with Gloucestershire Constabulary since 2007 about the drama.
Hilary Allison, who was a police press officer at the time, said it was a "horrible" murder investigation but something that had to be talked about.
"Lots of aspects of that investigation have been looked at, have been learned and used elsewhere since Cromwell Street," she said.
"I think it is really important that other aspects of the inquiry, including the role of Janet Leach and the appropriate adult, should be looked at."
In March, West's daughter Anne Marie Davis said the broadcast would cause "unimaginable distress to the families of the young girls who were murdered".