Gloucester railway triangle consultation period ends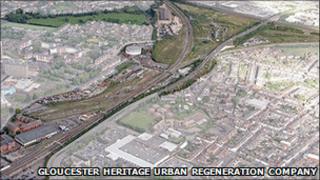 A public consultation into a £34m redevelopment of one of Gloucester's most notorious "eyesores" has ended.
Proposals for the derelict area of land known as the railway triangle were unveiled earlier this year.
The plans for a new business park, restaurant and pub, takeaways and a supermarket could create up to 1,000 jobs.
A 21-day planning application notice period, required by law, has now expired.
Owner Network Rail has agreed to sell the 15-acre site to developer LXB.
Leader of Gloucester City Council, Paul James, said the area was a "very sensitive site".
"It's a key gateway into the city and we know that people have different ideas on what they'd like to see there," he said.
"I hope we'll see the area transformed in the way that people throughout the city wish to see it transformed."
The site has been unused for more than 20 years.
Various schemes for regeneration, such as plans for a snow dome, an ice rink and a new stadium for Gloucester Rugby, have failed in the past.
A planning committee is now due to consider the application before making a final decision later this year.