Cirencester campaign targets pavement parkers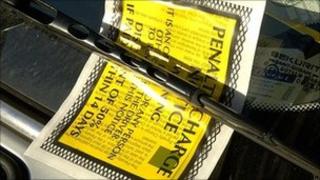 A partially-sighted man from Cirencester has led a campaign to stop motorists parking on the pavements and across dropped kerbs in the town.
Oliver Stevenson, 28, said on "countless" occasions he had been bruised or hurt after bumping into cars parked on the pavement.
Civil enforcement officers in the town have been asked to leaflet drivers warning them of the consequences.
More serious cases will be reported to the police for further action.
Mr Stevenson said he was particularly concerned about vehicles which park outside schools at drop-off and pick-up times and cause an obstruction.
"Does a blind or partially-sighted person have to be seriously injured before drivers start to be more considerate about where they park their cars?
"Having a guide dog has helped me to get out and about, but he cannot always negotiate these obstacles," he added.
The warning leaflets will be put into the plastic wallets normally used for penalty notices and placed on the windscreen in an attempt to get offenders to take notice.
The campaign is also supported by Gloucestershire Police.
"We welcome the opportunity to work closely with the council and we hope that we can stamp out this bad practice.
"Cirencester has ample provision for legal parking, and there is absolutely no reason why motorists should imperil pedestrians in this way," the force spokesman said.