'Disbelief' at phone box light costs in Gloucestershire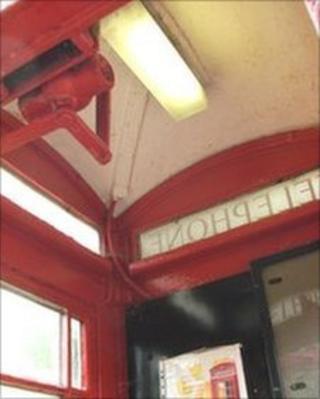 A parish council in Gloucestershire is outraged by what it claims is a sudden increase in the cost of running a light bulb in a decommissioned phone box.
Parish councillors said invoices from energy company Npower showed the cost to light the kiosk in Arlingham had increased from £7 per quarter to £75.
They decided to disconnect it but were quoted £475 by the distribution company which they say they cannot afford.
Npower said it was looking to reduce the charges as a goodwill gesture.
Linda Clements, chair of the parish council, said she was "very disbelieving" at the charge which was "money for nothing".
The council had arranged the contract with Npower to provide electricity to the single light bulb in the kiosk.
'No option'
Andrea Welby, clerk to the parish council, said January's invoice was for £2.95 but the next invoice, which covered February and March, had jumped up to £48.14.
"The main increase is due to a charge they call administration, which I was told was for meter reading, billing and collection," she said.
"A phone box is an unmetered supply so I am unsure how we can be charged for meter reading there."
"It finally transpired that we were on a default contract and even if we took out a new contract with them it would cost us approximately £75 per quarter."
In a statement to the BBC, Npower said: "We're sorry to hear that the parish council is struggling.
"While we have had no option but to increase the charges, we do not want to see them struggle."
The phone box was bought from BT in 2009 after the parish council decided to keep it for "village nostalgia".