Group tries to purchase South Cerney lake site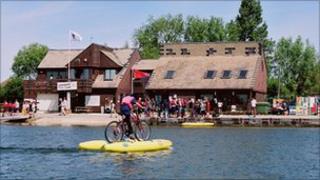 A community partnership is trying to raise £250,000 to purchase the lease of a lakeside site in the Cotswolds.
Gloucestershire County Council wants to sell the 125-year lease on the South Cerney Outdoor Education Centre in order to save money.
The Lake 12 Partnership wants to take over the site, which is used by over 80 schools, clubs and groups.
The Conservative-run council said it would ensure that outdoor activities continue to be provided to the public.
Under the plans to save £45m, the Wilderness Centre in Mitcheldean, the Forest of Dean, and its associated sites will also be closed and offered for sale.
The South Cerney Outdoor Education Centre will be offered as a going concern through a leasehold arrangement, the council spokesman said.
Jeremy Akroyd, chairman of the Lake 12 Partnership, said: "We have a business plan in place, we have ideas and visions of what we want to do with the site but we are desperately trying to accrue the funds necessary to take on that site.
"Unfortunately if we're not successful we're in the position where the highest bidder is most likely to win the operation of this glorious lake and facilities."