Fish moved from receding river in Gloucestershire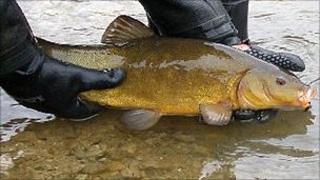 Thousands of fish are being moved from a river in Gloucestershire because of falling water levels.
A dry winter and spring is being blamed for receding levels on stretches of the River Churn, near Cirencester.
The Environment Agency is using electronic fishing equipment to stun the fish before taking them to the River Thames, near Cricklade.
Fisheries team leader John Sutton said the operation was being carried out "to prevent any potential problems".
He said: "Water levels along the River Churn have dropped significantly over the past few months and while we have seen rainfall in recent weeks, it has not been enough to recharge the water along many stretches of the Churn.
Distressed fish
"Although the fish are not currently in distress, it's important we intervene as early as possible to minimise the impact of low water levels and low dissolved oxygen levels and we are continuing to urge anyone who sees fish that may be in distress to contact us."
The fish, including brown trout and dace, will be caught using an electro-fishing technique which temporarily stuns the fish and allows them to be netted and transferred to a transport tank.
The rescue follows a similar operation carried out by fisheries officers at a gravel pit in Horcott, Fairford, on 26 August.
More than 200kg of tench, roach, perch, bream, rudd, crucian carp and pike were caught using nets and moved to an adjacent lake.
The Environment Agency is urging the public to keep a lookout for problems such as fish gasping for air and to report any concerns.