Gloucester beef is protected by trademark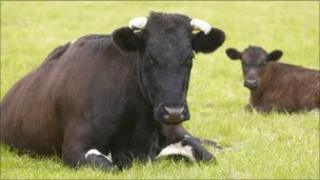 Meat produced from the historic breed of Gloucester cattle has been protected by a trademark.
The term "Gloucester beef" has been given a certification mark, meaning only meat from pedigree animals or their pure bred descendants may use it.
The Gloucester Cattle Society applied for protected status after seeing meat sold as Gloucester beef even if it had not come from the breed.
Only 70 of the animals remained in 1973 but now about 900 exist.
President of the Gloucester Cattle Society, Keith Burgess, said: "As a society we have worked hard since 1973 to re-build the national herd.
"The decision to apply for a certification mark is an important step in this development, by protecting the quality and authenticity of the Gloucester cattle name with a unique marketing brand."
Farmer Clifford Freeman, whose father Eric Freeman helped re-establish the Gloucester Cattle Breed Society in 1973, said: "It is only right that if you are going to market a product as 'Gloucester Beef' that it should be a true reflection of the Gloucester cattle breed rather than meat, from any breed, that happened to have been reared in Gloucestershire."
The certification mark has been awarded by the Trades Mark Registry of the Intellectual Property Office.
It also means butchers and retailers may be licensed by the society to use the mark where they are selling authentic Gloucester beef.