Minchinhampton building demolition plans opposed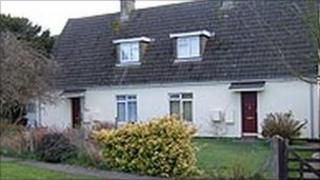 Plans to demolish ageing council houses in a Gloucestershire village have been met with opposition from some locals.
Stroud District Council wants to knock down and replace 35 houses on two streets in Minchinhampton in March 2012.
Some residents have said they do not want to leave.
A council spokeswoman said the authority had been working closely with residents who would have the first option on the new homes.
Lorna Ashley, who has lived in one of the houses for 21 years, said she felt her views were not being listened to by the council.
'Absolutely gutted'
"I'm afraid I can't be objective about this, I've got to be subjective," she said.
"It's people's homes, their gardens, their lives and their physical and mental wellbeing that's being affected by this.
"There's a wildlife pond, we get badgers in the garden.
"I've been selling plants and giving them to friends and relations because the garden's going to be bulldozed.
"I'm absolutely gutted... I don't want to move, when you've put your heart and soul into something for over 20 years."
Debbie Young, from Stroud District Council, said the homes, which are between 50 and 60 years old, did not have adequate heating and were not particularly suitable for people to live in.
'Regular meetings'
She said the new homes would have solar cells on the roofs which would give residents free electricity and the council would approximately double the number of properties on the site.
"If we weren't selling half the land off to the developer it would cost the council a considerable amount of money that we just don't have," she said.
"This is an innovative way to give the tenants good, affordable, cheap to run houses.
"We have given a commitment that any of the residents who have been there and moved out or are currently there will have the option to move back on to the site if that's what they want to do.
"We've been having regular meetings with those tenants and keeping them informed of exactly what's happening."