Stephen Morris reviews the Forest of Dean's James Lovett Trio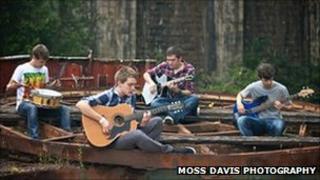 There are books - great big thick books, books that have won all kinds of literature prizes - that don't quite communicate a story with such raw power as the James Lovett Trio manage with their song 'Over My Sight'.
It's a song of mesmerizing beauty. And boy is it deep.
This is no simple "I love you", "I love you, but you don't love me" or "I used to love you, but you've treated me badly" song.
This is a haunting tale of a tragic love triangle in which nobody wins.
Louise, the true love of our hero's life has died. He later marries Mary, who has loved him all this time.
Poor Mary will do anything for him - even "look like you when she gave me her life".
But his heart still belongs to the long dead Louise: "Mary and I grew up but perfect you remain". It's heartbreaking stuff.
Elegant music
The James Lovett Trio's songs are the full package: a perfect blend of lyrics and music.
The words have an eloquence to them usually found in poetry or classic fiction ("smiles and kiss won't wash out like a blood stain").
And this is matched, word for note, syllable for chord change, with the most elegant of musical accompaniments.
The intensity and the restraint is the sort of thing we've come to expect from acts like Villagers or Anna Calvi.
And the fact the band's Facebook profile shows they "like" Jeff Buckley speaks for itself.
The Jeff Buckley comparison becomes more appropriate when you hear 'Drift', a rockier affair.
Along with the sounds of the late Buckley Jnr, you'll hear resonances of The Bends era Radiohead and even Led Zeppelin with its Arabic flavours towards the end.
'Drift' is full of musings on the transience of life and questions about the nature of reality.
The final verse sums up both lines of thought: "a single drop is floating in the stream/will it live to see the mouth, will we?/Thought I saw you falling in a dream/it was so real - or so it seemed".
Again, it's all deep metaphysical stuff.
Maybe the James Lovett Trio should issue copies of Immanuel Kant's Critique of Pure Reason with each download.
The latest edition to the JLT cannon is a slightly more uplifting affair: a call of encouragement to someone with a fatalistic attitude ("waiting for a fox to steal your food away").
It hardly rivals 'YMCA' as a song of unbridled chirpiness, but 'Waiting for a Fox' shows maybe there is a crack between the clouds for the James Lovett Trio after all.
The songs of the James Lovett Trio are hugely impressive: quite possibly the best music to come from Gloucestershire this year.
The lyrics are finely tuned, the music is fantastically scored. Everything just…works.
An impressive tour de force.
That's what we reviewers are obliged to say in situations like this. We need to hear more from this band.