'Eternal flame' lit at Beachley Barracks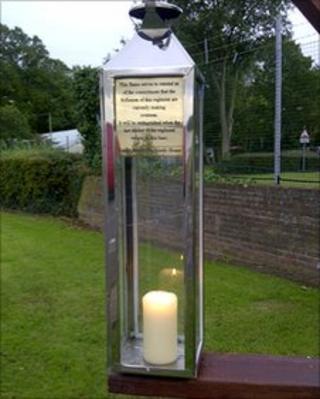 An "eternal flame" has been lit at Beachley Barracks in Gloucestershire, the home of 1st Battalion The Rifles.
The candle, housed in a storm lantern, will be kept burning until the last soldier returns from the battalion's current tour of duty in Afghanistan.
The battalion began a six-month tour of Helmand Province in April.
A member of the barracks' Military Guard Service came up with the idea to highlight the plight of the soldiers who are currently away.
Peter Pike, who has worked as a guard at the barracks for 23 years, said: "The ordinary soldier is going through a very hard time and not enough people are aware of the commitment that they are making, so my idea was to draw attention to that commitment that our young men are making on behalf of the country every day.
"As far as I'm aware there is no other military unit burning a lantern outside the gate in order to make the public aware that their soldiers are away [in a theatre of war]."
Maj Alexander Price, from 1 Rifles, said: "It's an amazing gesture that they've made and it's really thoughtful.
"Everyone back here, including the families, has got the end of the tour in sight, but all of us know there's still a third of the tour to go so we still need to stay on our guard."
Since their tour of duty began in April, four soldiers from 1st Battalion The Rifles have been killed.