Strongman from Stroud aiming for World's Strongest Man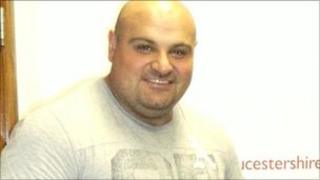 A 'strongman' from Stroud says he will be disappointed if he does not finish in the top three at this year's World's Strongest Man contest.
Laurence Shahlaei is to take part in the event in North Carolina, which begins on Thursday.
The 28-year-old, who trains at a gym in Gloucester, said he would be "disappointed with anything less".
He was crowned England's strongest man in 2009, and has competed for the world title every year since 2008.
The athlete, who weighs 24 stone (154kg) and stands 6ft 2in (188cm) tall, is one of 30 competitors taking part, including five from the UK.
"They're all tough events, but I'm not really worried about any of them," he said.
"If I make the final [after the qualifying rounds] the events really suit me, and I truly believe I've got a very good shot of getting top three."
Mr Shahlaei, who is nicknamed "Big Loz", said his biggest rivals would be the USA's Brian Shaw and the current world champion, Zydrunas Savickas, from Lithuania.
'Strongest legs'
"Brian Shaw is a monster of a man. He makes me look like a little boy," he said.
"Those two are the top two guys in the world, but I've beaten them in events before.
"I'll need a little bit of luck to win, but top three is definitely the goal and I'd be disappointed with anything less to be honest."
Mr Shahlaei said he had become known for "having the strongest legs in the world", and that he "excels in the squat event" - an event in which he is undefeated in the annual competition.
The World's Strongest Man contest is famous for giving the competitors a chance to demonstrate more unusual feats of strength.
In 2009 they had to pull an Airbus 320 aeroplane as fast as possible over 25m (82ft).
"I did it in about 52 seconds," Mr Shahlaei said.
"The hardest thing is getting it moving - you're harnessed to it and you have a rope to pull as well.
"It's breaking that initial inertia to get it moving. After about 15-20 metres your legs cramp up and you're dying to get past the finishing line."
That year Mr Shahlaei finished ninth overall which is his highest position in the competition so far.
Other events in the contest this year will include a Truck Pull, Car Deadlift [most lifts within a time limit], Keg Toss [quickest to throw eight kegs over a fixed height] and the Atlas Stones [quickest to load varying weight stones on to different level platforms].
The World's Strongest Man 2011 will take place at Wingate University, North Carolina, from 15 to 22 September.